Now, at this point, everybody is happy with the pay plan, but we still wanted to take it one more level. So we opened up the Platinum Plan. And the Platinum Plan can definitely change your life financially.

Once again, the same team stays in place. For only $65 - $55 extra a month plus a $10 annual processing fee, added to the Gold Plan, which is $20, making it a total of $75 a month. You have an opportunity to change your life financially and here's how it works.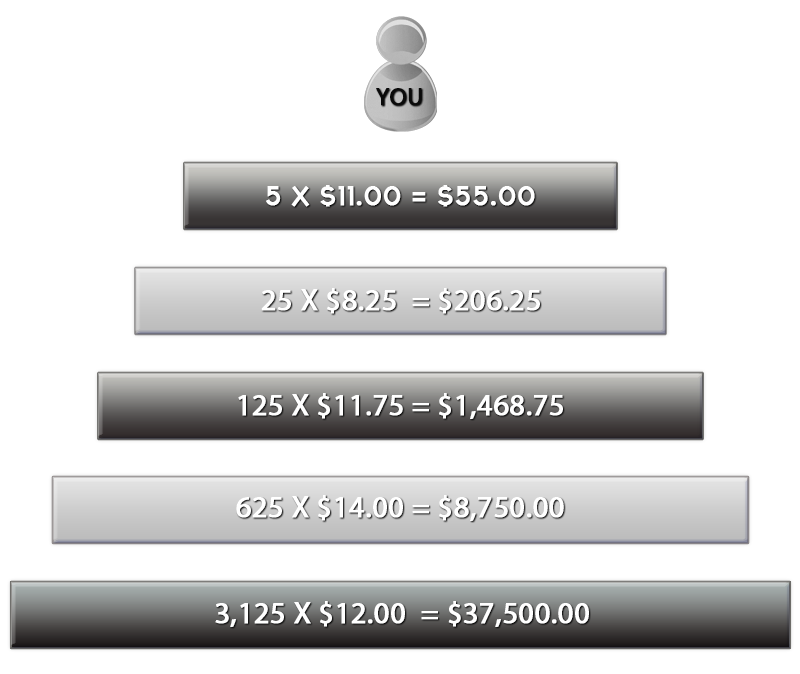 When you upgrade to Platinum, your commission is $11 for any Platinum member on level 1, $8.25 for any Platinum members on your level 2, 11.75 for any platinum members on your level 3, $14.00 for any platinum members on your level 4 and $12.00 for any platinum members on your level 5.


That's a TOTAL of $47,980.00 per month!
Now, let's take a good look at Level 3 and level 4 in the Platinum plan. Here's what happens, On level 3, you have the potential to earn over $1,700 a month where there is only 125 members on that level, 25 on level 2 and 5 on level 1, a total of 155 members. If you want to change your life financially and you're willing to talk to people every day, I believe, and I think you will agree, that you can build a team of 155 people. One of the keys to success is to talk to many people every day. With just 3 levels of platinum members, you will be earning $1,700 + a month which is over $20,000 a year! And this is just from level 3. How about one more level? 625 people on level 4 that you're earning $14 per platinum member and now you're earning over $10,000 a month, with less than 800 people. So if you want to pick up an extra $120,000 plus a year, then go to work! This is right here in front of you.

Now let's go to the final level. When you fill up this 5x5 matrix, you've got an opportunity to earn over $47,000 a month, which is over $500,000 a year. A complete 5x5 matrix actually pays out $575,760 a year. That's a ton of money and once again is very, very doable. You can do this business. And this is an excellent company and once again very simple, very affordable and it works. I hope you see the big picture!
These charts are for illustrative purposes only. The total earnings listed are the actual income potential per member and is based solely on your own efforts.